So, You Want to Buy Bitcoin?
First off, welcome to the world of Cryptocurrency!
You're probably here because you've heard about the recent gains your friends have been making in the cryptosphere and want to get in on the action.
I, myself have friends who have earned hundreds of thousands of dollars because they invested at the right time.
But I totally get it: all the crypto-talk has your head spinning and you're not sure who you can trust and you don't want to lose thousands of dollars. Well, you've come to the right place, Chain of Wealth is an educational platform that aims to empower our audience. We run a successful Podcast & Blog and interview some of the most inspiring people in the world.
In this guide we will go through all the things you should do when you buy Bitcoin or any other cryptocurrency.
If you'd like to skip ahead you can register an account on Coinbase (do it now, I'll wait).
That link will get you $10 for free of Bitcoin if you spend $100 or more.

Firstly, Understand What You Are Buying
If you take one thing away from this guide I want it to be that you need to understand what you are buying before diving in.
You also need to realize that the cryptocurrency markets are extremely volatile and you stand to lose everything you invest. Therefore, I recommend that you only invest money you can afford to lose.
A really good friend of mine who has a masters in finance recently contributed a guest post to Chain of Wealth and he dives into exactly what is cryptocurrency and how blockchain works.
It's a fantastic article and I won't dive into the specifics in this post, but I do recommend you take a look at it if you'd like some further reading.
So, How Do I Buy Bitcoin?
OK, you're ready to dive in!
The way you buy crypto is on an exchange. Think of an exchange as a stock exchange, where buyers meet sellers. They agree on a certain price and a transaction takes place.
This is no different in the world of Cryptocurrencies.
There are many exchanges out there and as time has progressed some exchanges have become more trustworthy than others.
I recommend Coinbase as your first port of entry to the market. Here you can buy Bitcoin, Ethereum & Litecoin.
Coinbase has handled $50 billion in transactions, is supported in 32 countries and has served over 10 million customers.
Also, Coinbase has an insurance policy to cover you in case of a breach. They also keep 98% of the coins in offline storage which makes it very safe (see more on safety in our cryptoschool mailing list).
In short, it's the easiest and safest way to get your feet wet.
Step 1- Sign up for Coinbase
In case you need the link again, you can sign up for Coinbase by visiting their website. (Use that link to get $10 of Bitcoin after spending $100!)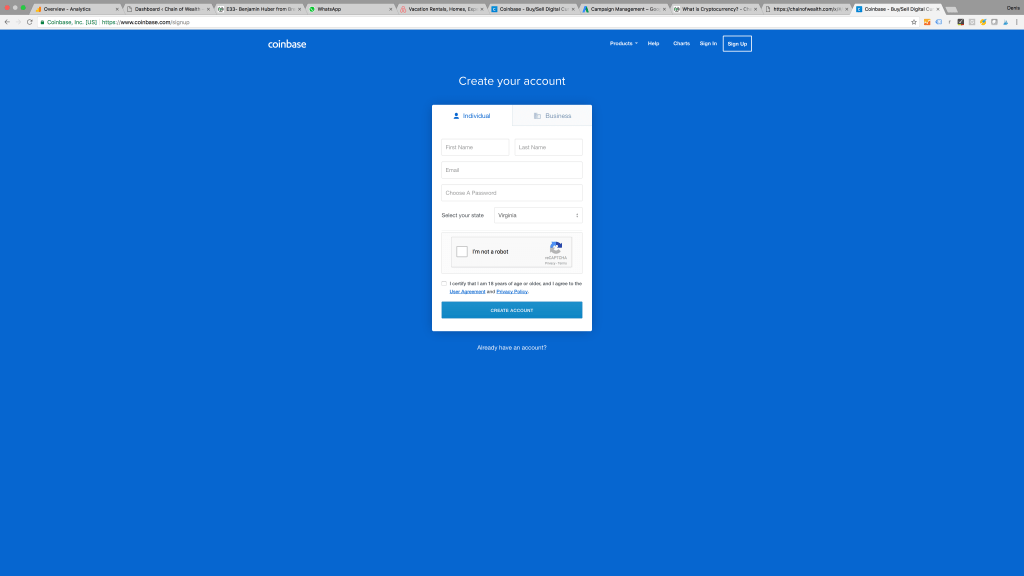 Once you've verified your email I strongly recommend enabling 2-factor authentication on your account.
This is to protect you from unauthorized access and I strongly advise you to take this security measure.
once you're logged in, your dashboard will show the current prices of Bitcoin, Ethereum and Litecoin as follows: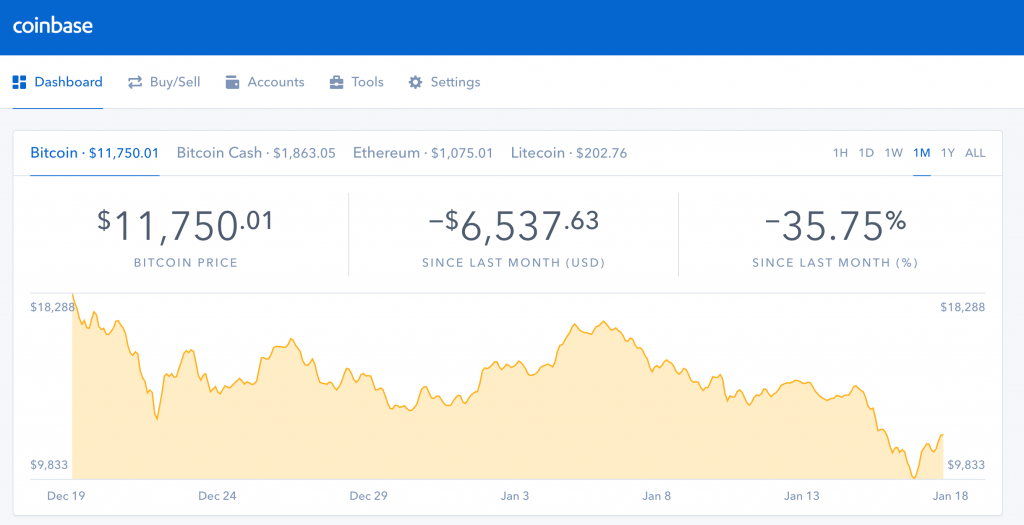 Step 2- Funding Your Account
The next step will be to fund your account.
Coinbase makes it really simple to fund your account, it accepts bank transfers, Credit & Debit Cards, Paypal & Wire Transfers.
Personally, I have funded my account with both bank transfers and credit cards, however it's up to you to decide what's your preferred method to fund it.
You will save money on fees if you wait for a bank transfer to go through, however if you need to make an urgent trade, a credit cards might make more sense.
Credit card funding is instant and bank transfers take 4-5 days.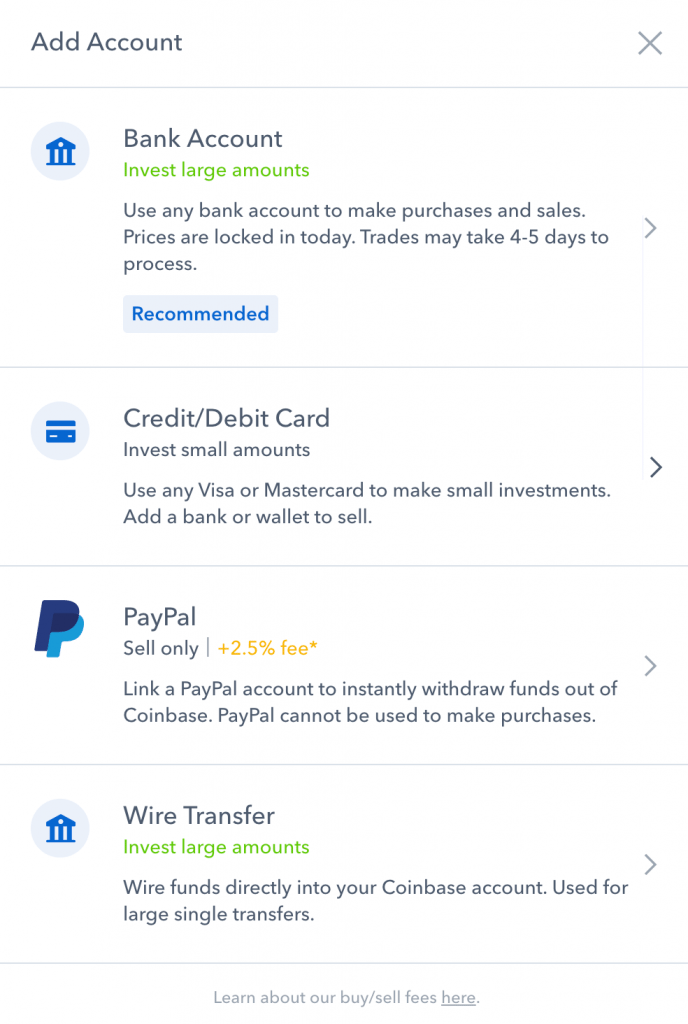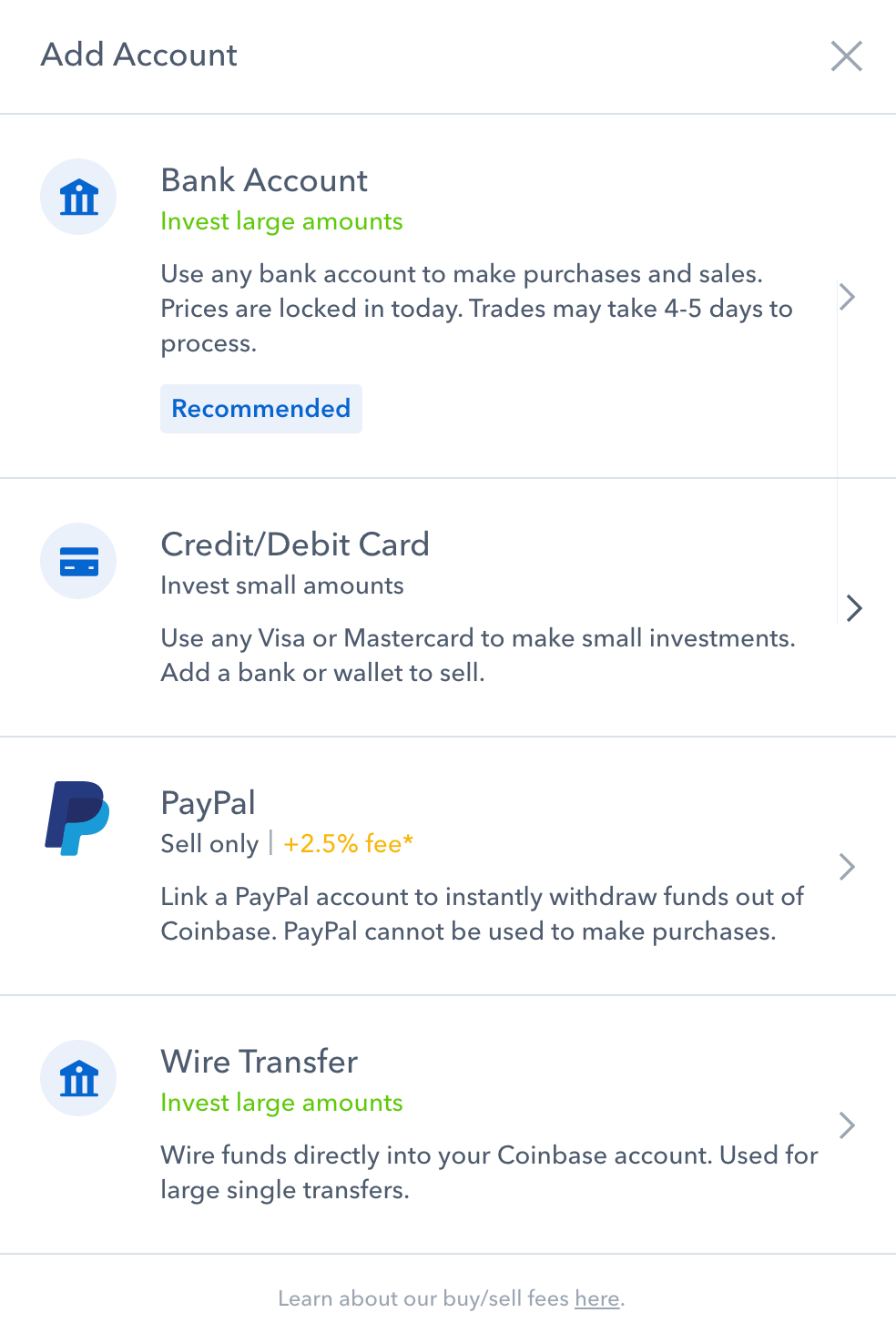 I use coins in quotation marks because you don't need to buy an entire coin.
You can buy part of a coin.
One misconception people have is they think they have to buy an entire coin- you can buy part of a coin and it still has value.
As an example, if I wanted to buy $1,000 worth of Bitcoin, I would simply enter the dollar value of Bitcoin I wish to purchase.
Coinbase will then automatically calculate the Bitcoin value that you are purchasing.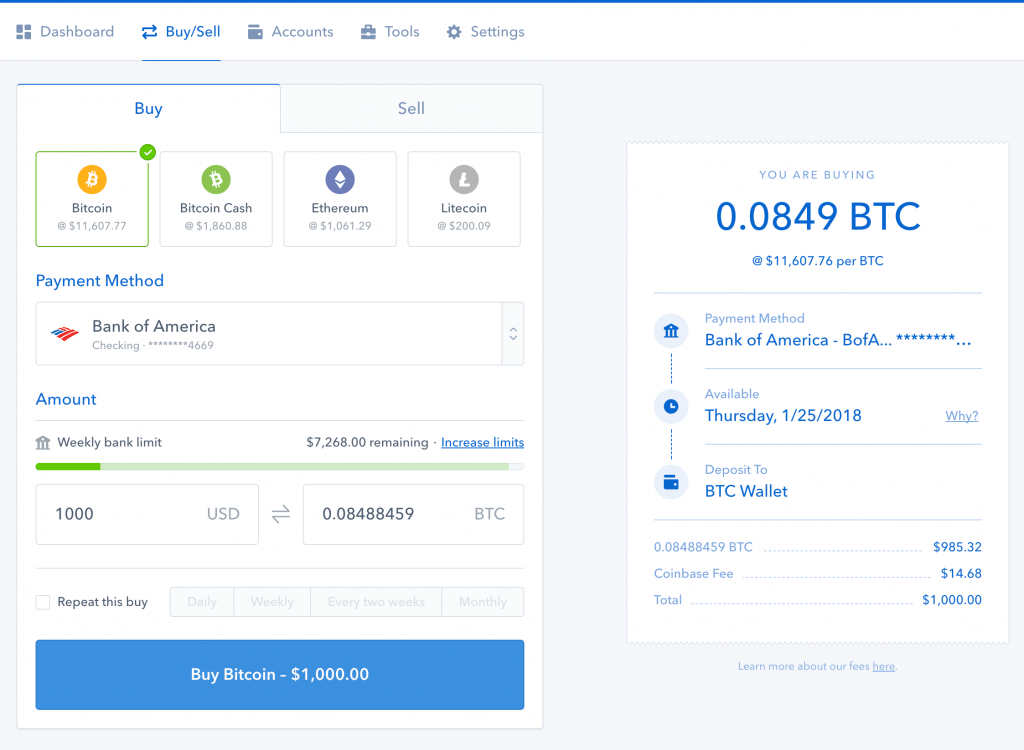 You will notice that there is a weekly limit on how much cryptocurrency you can buy.
This can be increased by verifying your identity with Coinbase and also helps securing your account. This is done to prevent fraudulent transactions as forces you to build up "trust" with Coinbase.
If you hit Increase limits, you then have some options available to you.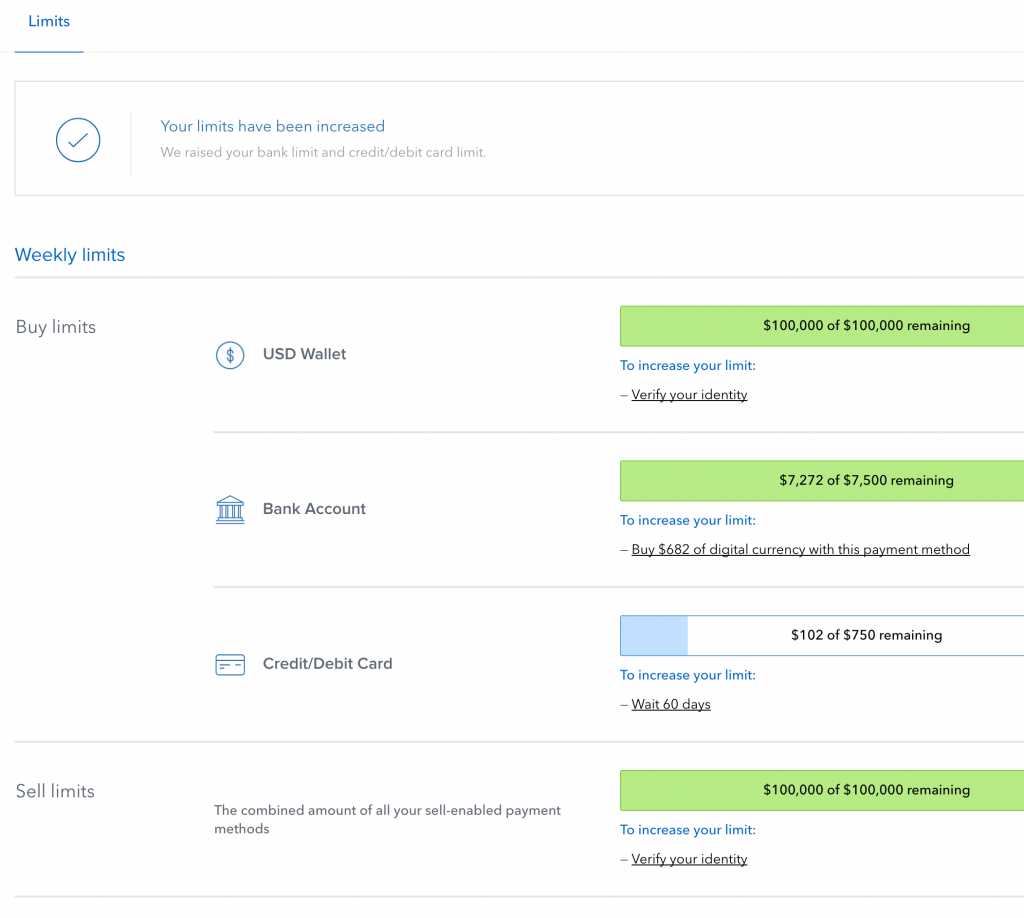 Pretty simple right?
This guide covered the basics on Bitcoin and how to buy it.
If you want to buy some of the other cryptocurrencies such as Ripple, you will need to transfer your Bitcoin to another exchange to do so.
If you're looking for other critical basics such as what is a cryptowallet and how you can use it to secure your cryptocurrency (which I highly recommend doing). 
Were you able to buy Bitcoin?
Let me know in the comment section below?